Tripawds is a user-supported community. Thank you for your support!
That's me – I'm a California Beach babe! I got to go back to the beach today! Hooray! My mom insisted on taking a little video of me running on the beach for proof that I am fine. (If she knew how to do these video things better she would show me running in slo-mo, like I was one of those Bay Watch babes!) Oh, and ignore my mom's voice on the video. It gets high and squeaky sometimes. She's so embarrassing. (Major eye roll.)
http://www.youtube.com/watch?v=0AZ68Ayz0GI
Just because I hurt my toe, she made me stay home from the beach for FOUR whole days!! It was OK at first, because my toe was maybe a little bit sore. But geez, FOUR days?? I admit – I took my frustrations out on Barney… hehehe.
First I turned him into a tripawd:
Then I turned him into a unipawd!!!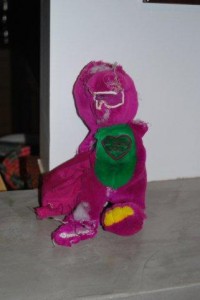 Oh yeah, just so nopawdy gets tooooo upset about me killing Barney – remember this is MY Barney, not the original Barney who is visiting Tripawd Warrior Princess Lylee right now. (I hope she is killing him good!)
Well, I just wanted to let everypawdy know that I am doing good. I hope you guys are all doing good too!
Big kisses,
Abby