Abby here again. I'm pretty bummed out today. My mom fixed Barney up and we put him in a new box (the box he came in was looking a little worse for wear).
Mom bandaged him up the best she could. She put antibiotic cream on some of the deeper booboos I gave him. (Like the one on his butt! Ha!) She gave him some Tylenol PM so he'll sleep on the way there.
Mom wanted to take a picture of him with his mementos from the trip. Not sure if mementos means the stuff we bought him at the zoo (a picture frame, a post card and a panda bear pin) or the wounds I inflicted on him… Anyway, while she was busy with her camera taking her mementos shot, I tried to sneak in and grab him one last time! See my head there: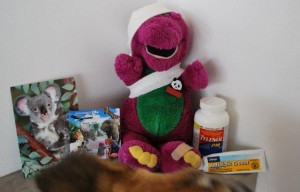 I am very sad to see Barney go, but Mom gave me the box he came in to play with and it is super stinky, just like Barney, so I guess that's the next best thing.
Now he is on his way to some other Tripawd who gets to have the fun of chewing on him. (Man, I am SO jealous!) But I'm not sayin' where he's going! I'm the only one who knows and you are just going to have to wait to find out!
Bye bye Barney! It was fun while it lasted!