Well, Abby had her first chemo session today and she loved it. (She's so nutty.) It was the most excited I've seen her in about a month. She was bouncing all over the place and kissing everyone and hopping around. Hopefully she'll be OK with the nausea the next couple of days. They gave me some medicine to bring home and give her if necessary.
Below is a picture of her looking oh-so-happy to be at her appointment. (She is checking out the dog and cat art hanging on the wall.)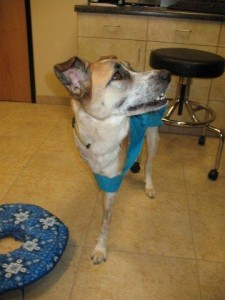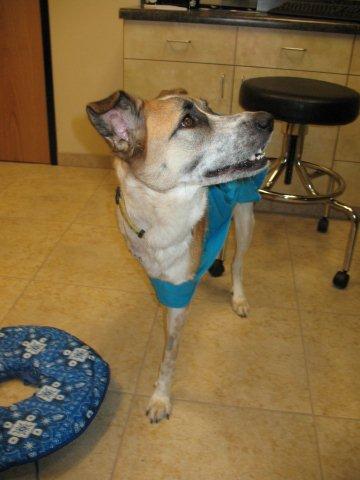 They gave her the 100% dose for the first go-round, since Abby looked so healthy and peppy. (I guess in some cases they ease into things…) The oncologist also said if Abby tolerates the treatment well, we might go to an every 2 weeks schedule instead of every 3. We'll see.
Next up is having her blood checked next week to see how her white cell count is doing. If it's really low, she might have to stick close to home for a few days, but other than that they gave her the OK for all her old activities: Walking! Dog Park! Dog Beach! HIKING even! The oncologist said Abby just needs to build her stamina back up. So, this afternoon, we'll try a little hop around the neighborhood. Our first one! (Can't wait to see if any neighbors notice/ask.)